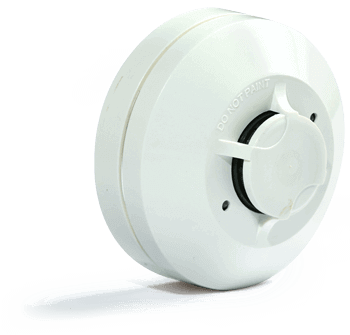 This detector monitors the level of smoke & heat in its surveillance and switches to alarm state when the live smoke/heat value exceeds its pre-set threshold value. This detector with a unique ID communicates to the control panel by pin pointing its exact location. It is AA battery powered and provides Low Battery alerts to the control panel. This unit is mainly used at places where wiring is not feasible.
Exclusive Features
Technical Summary
Know More
Exclusive Features
AA battery (2 Nos) operated
Battery life span of 18 months
Address can be changed from the panel
Detailed location description settings
Soft addressing
Pre alarm
Low battery warning
Contamination alarm

Remote test facility from the panel

Dual bi-color LED indication for 360° viewing angle

Insect-resistant screening
Easy to maintain/service
Technical Summary
Electrical Specifications
Operating voltage : 3V DC
Quiescent current : 3µA
Alarm current : 1mA
Battery Type : 2x1.5V AA Size Battery
Carrier frequency : 433.92 MHZ
Indications
Normal : Green LED (Blinks 50+/-10 sec)
Alarm : Red LED (Glows steady)
General Specifications
Smoke sensitivity : 1+/ - 0.5 %obs/ft
Thermal sensitivity : 57ºC 
Operating temperature : 0ºC to 49ºC 
Storage temperature : 5ºC to 40ºC 
Life time of battery : 18 Months
Humidity : 0-95% RH (Non-condensing)
Color : White 
Housing : Polycarbonate
Compatibility : ALAW2XV1 Protocol
Dimensions(DiaxH)
Without Base : 100x34mm
With Base : 100x54mm
Weight
Without Base : 78g
With Base : 113g
Know More
What is a multisensor sensor and how does it work?
Multisensor is an instrument that houses both smoke and heat sensors for a more guaranteed fire detection.
The multisensor detector is only a measuring instrument that monitors the level of smoke and heat in its surveillance. It will raise an alarm only when the level of smoke/heat exceeds its pre-set upper limit/threshold values.
Its working functions combines optical smoke detection principle & rate of rise heat detection principle.
Photoelectric/Optical Smoke detection part work on a common light scattering principle. Multisensor detector contains a chamber that consists of a light emitter usually a LED and a light a sensitive device like a photodiode that receives all the light directly emitted by the LED.
When the smoke enters the chamber, the intensity of light received by the photodiode reduces due to density of smoke. If the intensity of received light drops below a pre-set threshold level, fire alarm is triggered confirming fire. 
Further, for heat detection a thermistor device is used in the detector to monitor temperature levels. The resistance offered by the thermistor device decreases with increase in heat sensed by it, thereby increasing the values of voltage and current drawn by the circuit. Detector's intelligence algorithm monitors the difference in voltage values at continuous intervals of time. The higher the difference in voltage, the higher the increase in heat. 
In case of fire, the rise in temperature is rapid. Meaning, in less time the difference in temperature measured is very high. This parameter of rate of rise in heat is considered to raise an alarm confirming presence of fire.  
Alarm is also raised when the live temperature exceeds the pre-set upper limit/threshold values of the detector. 
Unit of measure for level of smoke is Obscuration/foot (Obs/ft). Similarly, Celsius is the preferred unit for measuring heat levels. 
Multisensors provide more reliable fire warnings by responding quickly to smouldering fires.