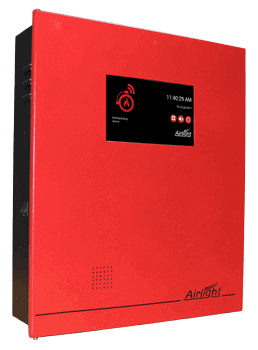 Addressable Repeater panel repeats all the fault, fire statuses reported by the main control panel along with real time information to the advantage of the end user at a remote location. LAN cables are used to network repeater panel with the main control panel. 
Exclusive Features
Technical Summary
Know More
Exclusive Features
Android OS with touch screen control
Graphic display available in 7" and 10" 
Networkable
Built-in speaker for voice alarm notification
Built-in battery charger
High-tended emergency info in the form of text, voice & floor map
Password protected
HDMI output
Event logs
Transient voltage protection upto 2.4KV
Uncompromising graphical experience
Corrosion protection
Technical Summary
Electrical Specifications
Primary Power : 110V/220V±10%AC, 60/50Hz
Standby Power : 24V DC (12V, 7Ah SLA Battery,2Nos)
Charging Voltage : 28 ± 1V
Charging Current : 330mA(max)
Operating Temperature : 0° C to 49° C
Humidity : 0-95% RH (Non-condensing)
Fuses
Supply Fuse : 3A Resettable fuse
Battery Fuse : 3A Resettable fuse
Finish
Enclosure Dimensions(HxWxD) : 460x390X130 mm
Housing Material : 16 Gauge Cold Rolled sheet
Back Box : Black Matte
Front Door : Texture Red
Display Resolution : 800X480 Pixels
Display Size : 7"
Compatibility Protocols : AU101X/AUAA2X / ALPA2XV1 /ALAW2XV1 Protocol
Know More
What is a fire alarm panel or control panel panel?
It is the device that controls all the connected initiating devices (smoke detectors, manual call points etc.) and notification devices(sirens, alarm sounder etc.).
This fire control panel receives information from the connected devices and reports fire or fault based on the information communicated. The connected devices receive power supply from the fire control panel equipment.
What are the different types of fire alarm panel?
Fire Control panels are either of type
Conventional
Addressable
Conventional Fire Alarm Panel:
This type of fire control panel indicates only the zone in fire. Exact location cannot be determined from a conventional fire alarm panel or system. Conventional fire panel utilise LED as zone indicators.
Addressable Fire Alarm Panel:
This type of fire control panel indicates exact location in fire by identifying the location of device in alarm. Every device in an addressable fire alarm network is assigned with a unique ID that is taken as reference to identify the device location.