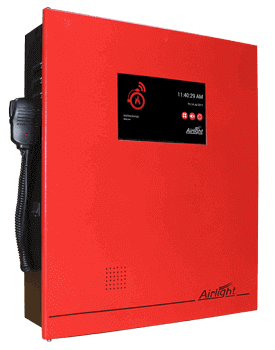 The most advanced of all fire alarm control panel variants, Airlight introduces Android based fire alarm control panel with sophisticated user and administrator level aspects for control and monitoring. This panel also has a built-in speaker to support voice alarm pin pointing to fire location. The panel is touch screen controlled and is equipped with a built in battery charger.
Exclusive Features
Technical Summary
Know More
Exclusive Features
Android OS with touch screen control
Graphic display available in 7" and 10"
Built-in speaker for voice alarm notification
High-tended emergency info in the form of text, voice & floor map
Device customisation control
2 Level Password protection
Networkable versions available
HDMI output
SD card input for transferring voice messages to database
Event logs
Transient voltage protection upto 2.4KV
Uncompromising graphical experience
Loop card extension facility in 2 & 4 loop panels
Corrosion protection
Technical Summary
Specification
Primary Power : 220V±10%AC, 50 Hz
Standby Power : 24V DC (12V, 7/17Ah SMF Battery,2Nos)
Charging Voltage : 28 ± 1V
Charging Current : 700mA(max)
Operating Temperature : -10° C to 55° C
Humidity : 0-95% RH (Non-condensing)
Altitude : 3000m(above MSL)
No Of Zones : 32(Max)
Signaling line circuits
Loop Current : 250 mA
Wiring : Class B, Style 4 Wiring
Devices Per Loop
Initiating Devices : 127
Loop Resistance : 40 ohms
Auxiliary Supply : 480 mA@24V DC
Fuses
Supply Fuse : 3A Resettable fuse
Battery Fuse : 3A Resettable fuse
SLC Fuse : 500 mA Resettable fuse
Auxiliary Supply Fuse : 500 mA Resettable fuse
Display Resolution : 1024X600 Pixels
Display Size : 10.1"
Finish
Enclosure Dimensions (HxWxD) : 620X560X170 mm
Housing Material : 16 Gauge Cold Rolled sheet
Back Box : Black Matte
Front Door : Texture Red
Know More
What is a smoke detector and how does it work?
Smoke detector is a measuring instrument that measures the level of smoke in its surveillance. It will raise an alarm only when the level of smoke exceeds its pre-set upper limit/threshold values.
Photoelectric/Optical Smoke detector work on a common light scattering principle. Smoke detector contains a chamber that consists of a light emitter usually a LED and a light a sensitive device like a photodiode that receives all the light directly emitted by the LED.
When the smoke enters the chamber, the intensity of light received by the photodiode reduces due to density of smoke. If the intensity of received light drops below a pre-set threshold level, fire alarm is triggered confirming fire. 
Unit of measure for level of smoke is Obscuration/foot (Obs/ft).
Photoelectric smoke detectors are highly sensitive to visual particles of smoke and also respond quickly to smouldering fires.
Addressable smoke detectors are wired using 2*1.5 sqmm copper cables from control panel.