MANUALLY OPERATED ELECTRONIC FIRE ALARM SYSTEM (MOEFA) as per NBC'16 (Part-4)
According to National Building Code 2016 (NBC'16), the following 3 devices needs to be installed wherever MOEFA is specified.

MANUALLY OPERATED FIRE ALARM SYSTEM
To raise alarm manually when fire, smoke, heat etc. leading to emergency is discovered.

PUBLIC ADDRESS SYSTEM
Auto/ Manual announcement and voice evacuation system for guidance in Hindi/English/vernacular language. Prerecorded messages can be used and shall be integrated with existing fire alarm system.

TALKBACK SYSTEM
To intimate fire and interact with occupants for organised evacuation and guidance.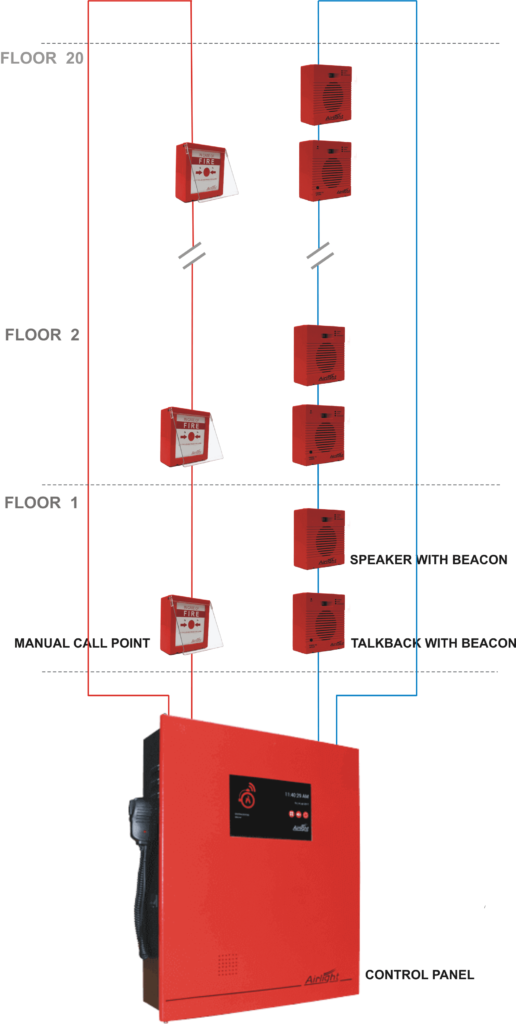 MOEFA is the minimal fire safety requirement for the following type of buildings as per NBC 2016. MOEFA is a default inclusion in Automatic fire detection & evacuation system
Application
Description
MOEFA Requisites
Residential Buildings

Lodging Rooms (Less than 15 mtrs (More than 30 rooms))
Residential Apartments and Houses (Above 15 mtrs)
Hotels

Required
Educational Buildings
All above 15 mtrs
Not Required
HOSPITALS AND CLINICS
All types and sizes
Required
Assembly Buildings

Auditorium
Assembly halls
Museum
Restaurants etc.

Required
Business Buildings
Professional establishment like officies of

Architects
Engineers
Doctors
Lawyers
Post office
Research establishment
IT parks
Call centres

Required
Mercantile Buildings

Shopes
Stores
Departmental stores
(All Except area of grounf & storey less than 500 sqm & less than 10 mtrs in hight)

Required
Industrial Buildings

Low Hazard (Except covered area less than 500 sq mtr and less than 15 mtr in height)
Moderate Hazard (Except covered area less than 500 sq mtr)
High Hazard (Except covered area less than 50 sq mtr)

Required
Storage Buildings

Except covered area less than 250 sq mtr
Except multilevel car parking

Required
Hazardous Buildings
All types
Required