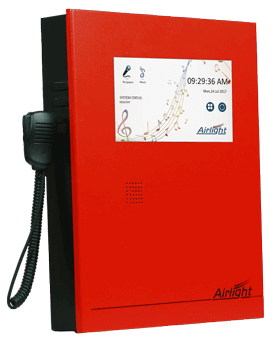 Digital Public Address System Control Panel from Airlight is Android based and is touch screen equipped. Highly sophisticated user controls allows the user to select a specific speaker or group of speakers to play music, pre recorded voice message, make live announcements etc. In built speaker enables two way communication with the connected talk back/ two way speaker units. Volume control for speakers can also be adjusted from the public address system control panel and requires no external amplifiers.
Exclusive Features
Technical Summary
Know More
Exclusive Features
Android OS with touch screen control
Built-in speaker for two way communication
Attached microphone for announcement
Individual/ group speaker control
Speaker location description detailing
Graphic display available in 7" and 10" 
2 Level Password protection
Transient voltage protection upto 2.4KV
Uncompromising graphical experience
Corrosion protection
Technical Summary
Electrical Specifications
Primary Power : 110V/220V±10%AC, 60/50Hz
Standby Power : 24V DC (12V, 7Ah SLA Battery,2Nos)
Charging Voltage : 27 ± 1V
Charging Current : 1A(max)
Operating Temperature : 0° C to 49° C
No Of Zones : 32(Max)
No of Channel : 5
Addressable speaker/mic : 12/loop
Fuses
Supply Fuse : 3A Resettable fuse
Battery Fuse : 3AResettable fuse
Display Resolution : 800X480 Pixels
Display Size : 7"
Finish
Enclosure Dimensions (HxWxD) : 460x390X130 mm 
Housing Material : 16 Gauge Cold Rolled sheet
Back Box : Black Matte
Front Door : Texture Red
Compatibility : AU101X/AUAA2X/ALPA2XV1/ALAW2XV1 Protocol
Know More
What is a Public Address (PA) System and why is it required?
Public address system is an electronic sound distribution system. It is used to make live announcements, broadcast pre-recorded voice messages, play music etc. This system is required to address to a large gathering or sometimes even to a small group at a remote location.