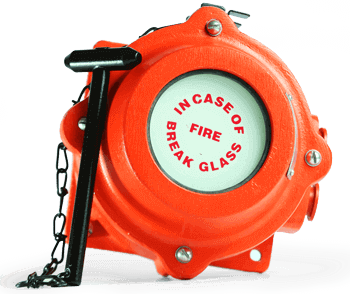 This Call Point used for instant manual actuation of fire alarm system is designed to withstand harsh outdoor conditions. It and can be triggered by breaking the glass with the provided hammer and requires no manual reset.
Exclusive Features
Technical Summary
Know More
Exclusive Features
Weatherproof enclosure
Attached hammer for actuation
No manual reset required
Low standby current
Corrosion Protection
Soft addressing
Electrical supervision
Technical Summary
Electrical Specifications
Operating voltage : Nominal 12/24V DC  
                                  Minimum  9V DC    
                                   Maximum   26V DC
Quiescent current : 2µA
Alarm current : 25mA at 24V
                            12mA at 12V
General Specifications
Type of protection : Weather proof-Wp
Area classification :
Safe area
Apparatus standard : IS-13947/93
Mechanical Specifications
Dimensions(HxW) :
105x105mm
Material : Aluminium Lm6
Weight : 1.5kg(Approx.)
IP Protection : IP65
Finish : Anti corrosive epoxy powder coated
Cable Entry : 2x3/4"ET
Gasket : Neoprene
Hardware : Stainless Steel(SS-304)
Know More
What is a Manual Call Point? 
Manual Call Points (MCP) are devices that are used to manually trigger the fire alarm system. It is to be used only after the confirmation of existence of  fire in the building. They can also be used at the time of other potential threats such as terrorism, earthquakes etc. to alert the occupants for immediate evacuation. 
Where & how should a Manual Call Points be installed?
MCPs should be installed at exit prone areas of the building that include staircases, escape routes, against main doors and corridors.
They should be positioned such that no person travels beyond 12 meters to activate the nearest call point. Or, there should be a maximum gap of 24 meters between two nearest call points.
They should also be mounted at a height of about 1.5 meters from the floor to ease actuation.  
What are the variants of Manual Call Points?
Push Button type :  Actuated by pushing the button. These are mostly used at indoors of an office space, residences etc. and often comes with a protective flip cover to avoid malicious activation.
Break Glass type : They are triggered by breaking the glass and pushing the inside button, or by just breaking the glass. These can be used indoors at industries, residences etc.
Explosion Proof type : Mostly found suitable for outdoors or industrial purpose. It is actuated by breaking the glass.
Weather proof type :  Again a suitable variant for outdoors and industrial applications. They are triggered by breaking the glass.