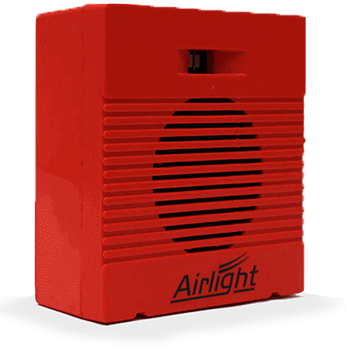 This sounder beacon unit engineered to produce fire emergency alerts is featured with a high volume buzzer and bright LED flasher to draw the attention of occupants for evacuation. This device will be automatically triggered when fire detectors or manual call points report fire, and all sounders can be silenced or resounded at once from the control panel.
Exclusive Features
Technical Summary
Know More
Exclusive Features
High volume buzzer tone
Bright flashing LED for visual warning
Silence/ Resound option from control panel
Soft addressing 
Easy installation 
Technical Summary
Electrical Specifications
Operating voltage : 24V DC
Alarm Tone current :
400mA(max)
Sound level : 90 dB at 10 feet
Indications
Alarm Indicator : White LED(Flashes)
General Specifications
Operating temperature : 0ºC to 49ºC
Storage temperature : 5ºC to 40ºC
Humidity : 0-95% RH(Non-condensing)
Color : Red
Housing : Polycarbonate
Mechanical Specifications
Dimensions(HxWxD) : 120x120x45mm
Weight
Without Backbox : 204g
With Backbox : 472g
Know More
What are Sounder Beacons and why are they required?
Sounder Beacons are audio-visual utilities required to alert occupants of potential threats such as fire, earthquake, terrorism etc. High sounding siren tone is a sign recognised by occupants for immediate evacuation.
For environments with high ambient noise, or for those with hearing impairments etc. flasher in the sounder device provides visual signal for emergency.