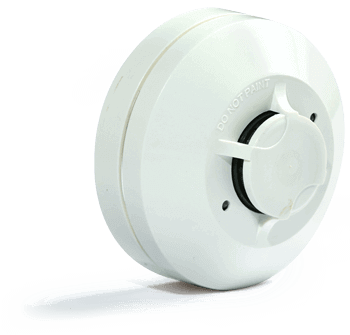 This Conventional Smoke Detector houses smoke sensor for monitoring the level of smoke in its surveillance. It switches to alarm state by communicating to the control panel when the level of smoke reaches its pre-set level. It communicates its zone number to the control panel for location tracking. 
Exclusive Features
Technical Summary
Know More
Exclusive Features
Wide operating voltage
Low standby current
Drift compensation technique for false alarm immunity
Insect-resistant screening
Easy to maintain/service
Dual bi-color LED indication for 360° viewing angle
Technical Summary
Electrical Specifications
Operating voltage : Nominal 12/24V DC
                                   Minimum 9V DC
                                   Maximum 26V DC
Quiescent current : 50µA
Alarm current : 25 mA at 24V
                            12 mA at 12V
Indications
Normal : Green LED (Blinks every 8 sec)
Alarm : Red LED (Glows Steady)
General Specifications
Smoke sensitivity : 1+/ - 0.5 %obs/ft
Operating temperature : 0ºC to 49ºC 
Storage temperature : 5ºC to 40ºC 
Humidity : 0-95% RH (Non-condensing)
Color : White 
Housing : Polycarbonate
Cycle Time : 4 sec
Contact Clamp : Stainless steel
Dimensions(DiaxH)  
Without Base : 100x34mm
With Base : 100x46mm
Weight
Without Base : 63g
With Base : 103g
Know More
What is a smoke detector and how does it work?
Smoke detector is a measuring instrument that measures the level of smoke in its surveillance. It will raise an alarm only when the level of smoke exceeds its pre-set upper limit/threshold values.
Photoelectric/Optical Smoke detector work on a common light scattering principle. Smoke detector contains a chamber that consists of a light emitter usually a LED and a light a sensitive device like a photodiode that receives all the light directly emitted by the LED.
When the smoke enters the chamber, the intensity of light received by the photodiode reduces due to density of smoke. If the intensity of received light drops below a pre-set threshold level, fire alarm is triggered confirming fire. 
Unit of measure for level of smoke is Obscuration/foot (Obs/ft).
Photoelectric smoke detectors are highly sensitive to visual particles of smoke and also respond quickly to smouldering fires.
Conventional smoke detectors are wired to the control panel using 2*1.5 sqmm copper cable. Their smoke sensitivity values are factory set and cannot be altered.