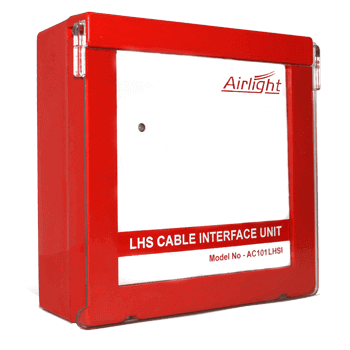 This Conventional analogue LHS(Linear Heat Sensing) cable Interface unit is designed to be used for Fire detection with analogue type LHS cable. This unit is compatible to use with all standard conventional panel.
Exclusive Features
Technical Summary
Know More
Exclusive Features
Wide operating voltage

Transient Protection upto 2.4KV

Easy to install
Powered by IDC

Fault monitoring of LHSC for open and short circuit conditions

Blinking LED for Visual Supervision

Low standby current
Technical Summary
Electrical Specifications
Operating voltage : 17-24V DC
Quiescent current : 600 μA
Alarm current : 25 mA(max)
Maximum IDC Resistance : 100 Ohms
Maximum IDC Current : 600 μA
Indications
Normal : Green LED(Blinks during scan)
Alarm : Red LED(Glows steady)
General Specifications
Operating temperature : 0ºC to 49ºC 
Storage temperature : 5ºC to 40ºC 
Humidity : 0-95% RH(Non-condensing)
Color : Red
Housing : Top-plastic, Bottom-Mild Steel
Mechanical Specifications
Dimensions(HXWXD) : 120x120x48mm
Weight
Without Backbox : 108g
With Backbox : 378g
Know More
What are Linear Heat Sensing Cables and how do they work?
Linear Heat Sensing Cables (LHS cables) are heat sensors that offer heat detection through out its length. They can be used at cable trays, storage racks, conveyors etc. for early fire detection, where an installation of a detector device is impractical.
LHS cables are of type Analog and Digital. Each consists of two cores of copper wire with a polymer separating them. They detect heat as the resistivity separating polymer varies in proportion to the temperature in its surveillance.
LHS Interface Units are those that interface communication and settings of the LHS cable with the Control panel.