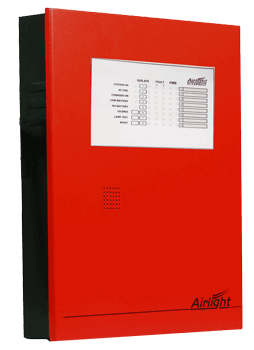 This micro controller based Conventional fire alarm control panel is equipped with touch control switch and LED indicators. Engineered with less hardware, chances of failure of this unit is minimised. This panel can be used with all standard brand conventional devices. This panel is suitable for budget friendly small sized applications.
Exclusive Features
Technical Summary
Know More
Exclusive Features
Capacitive touch switch
LED as indicators

Auto isolate zone when short circuit occurs

Supervised NAC output

Low battery visual warning with audible tone

Built-in battery charger

Zone isolate control

Two form C potential free contact

Lamp test facility
Technical Summary
Electrical Specifications
Primary power supply : 220V/110V±10%AC, 50/60Hz
Secondary power supply : 24VDC (2nos of 12V, 1.3/7Ah SLAbattery)
Battery charging current : 500 mA(max)
Battery Charging Voltage : 28±1V
Operating temperature : 0ºC to 49ºC
Storage temperature : 5ºC to 50ºC
Humidity : 0-95% RH(Non-condensing)
Housing : 16 guage cold rolled sheet metal powder coated
Initiating Device Circuit(zone circuit)
Normal voltage : 24V DC
Alarm current : 25mA(max)/Zone
Short circuit peak current : 48mA(max)
End of line Resistor : 4.7KΩ½ watt
Detectors per zone : 20
Relay Contact Rating
Fire relay : 2A@24VDC
Fault relay : 2A@24VDC
NAC output : 480mA@24VDC
Mechanical Specifications
Dimensions(HXWXD) : 460x400x125mm
Know More
What is a fire alarm panel or control panel panel?
It is the device that controls all the connected initiating devices (smoke detectors, manual call points etc.) and notification devices(sirens, alarm sounder etc.).
This fire control panel receives information from the connected devices and reports fire or fault based on the information communicated. The connected devices receive power supply from the fire control panel equipment.
What are the different types of fire alarm panel?
Fire Control panels are either of type
Conventional
Addressable
Conventional Fire Alarm Panel:
This type of fire control panel indicates only the zone in fire. Exact location cannot be determined from a conventional fire alarm panel or system. Conventional fire panel utilise LED as zone indicators.
Addressable Fire Alarm Panel:
This type of fire control panel indicates exact location in fire by identifying the location of device in alarm. Every device in an addressable fire alarm network is assigned with a unique ID that is taken as reference to identify the device location.