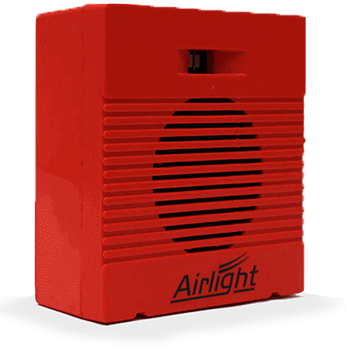 This sounder beacon unit is engineered with a high sound buzzer and LED flasher to produce audio-visual alerts at the time of fire emergency. This addressable device can be assigned to one or multiple zones to produce alerts only for the specified zones, there by keeping the other areas undisturbed. The volume of output from this device can also be controlled from the panel.  
Exclusive Features
Technical Summary
Know More
Exclusive Features
Individual ON/OFF control from panel
Multiple zone assignment
Volume Control
Bright flashing LED
ID can be changed from panel
Detailed location description settings
Electrical supervision
Soft addressing
Transient Protection upto 2.4KV
Technical Summary
Electrical Specifications 
Operating voltage : 24V DC
Quiescent current : 20mA
Alarm Tone current : 400mA(max)
Alarm Voice current : 300mA(max)
Sound level : 90 dB at 10 feet
Indications
Normal Indicator : Green LED (Glows during PA enable)
Alarm Indicator : White LED (Flashes)
General Specifications
Operating temperature : 0ºC to049ºC 
Storage temperature : 5ºC to 40ºC 
Humidity : 0-95% RH (Non-condensing) 
Color : Red
Compatibility : ALPA2XV1 Protocol
Housing : ABS
Mechanical Specifications
Dimensions(HxWxD) : 120x120x43mm
Weight
Without Backbox : 178g
With Backbox : 242g
Know More
What are Sounder Beacons and why are they required?
Sounder Beacons are audio-visual utilities required to alert occupants of potential threats such as fire, earthquake, terrorism etc. High sounding siren tone is a sign recognised by occupants for immediate evacuation.
For environments with high ambient noise, or for those with hearing impairments etc. flasher in the sounder device provides visual signal for emergency. 
How is Airlight's Addressable Speaker with flasher a better advantage over Sounder Beacons?
Airlight's new Speaker cum flasher replaces conventional buzzer sound with sophisticated voice messages that pin point the emergency location thereby reducing panic. It also includes a high intensity LED flasher for visual indication.
It also servers as a regular speaker for playing music, making announcement etc. with volume control facility.
Every speaker in the Addressable network has a unique ID. Location description detailing can be done for each and every speaker unit using the ID as reference. The user can also control the ON/OFF status, multiple zones assignment, isolation etc. to an individual speaker or even a group of speakers.
What is multiple zone assignment feature in sounder/speaker?
The multiple zone assignment feature by Airlight allows the sounder/speaker device to be assigned to a particular zone or multiple zones.
Meaning, if there is a fire at Zone 1 of the building, the sounder devices that are assigned to Zone 1 alone would be triggered while the rest remain silent. This act can keep the other areas undisturbed.
By multiple zone assignment, one sounder unit can be assigned to sound when there is a fire emergency in one or more assigned zones.